"Part of the value of a Green Amendment is not just its legal strength in support of advocacy and legal challenges when necessary, but it is also the moral and logical sense it makes – clean water and air, a stable climate, and a healthy environment as rights for all. This basic truth about environmental rights is inspiring and engaging people of all colors, ages, ethnicities, political beliefs backgrounds, and geographies. We all know what a clean, healthy and safe environment means to our healthy lives."

​​​​​- Maya K. van Rossum, Founder of Green Amendments for the Generations and author of The Green Amendment: Securing Our Rights to A Healthy Environment
---
Spotlight: The Green Amendment New Mexico, Part One Receives Cinema Verde 2022 Social Justice Award
We are so proud to announce that the film, The Green Amendment: New Mexico, Part One (2021), has received the 2022 Social Justice Reward from Cinema Verde! Directed by Steve Rogers and produced by GAFTG, this film is part one of a two-part series that highlights environmental issues and advocacy efforts in New Mexico and how the New Mexico Green Amendment can be a catalyst to save the environment, lives, and future of New Mexico. The film include engaging dialogues with changemakers, such as Senator Antoinette Sedillo Lopez, sponsor of the New Mexico Green Amendment; Emma Rose Cohen, CEO/Founder of Final; Beata Tsosie-Peña, Environmental Justice Organizer; Artemisio Romero y Carver, founding member of Youth United for Climate Crisis Action (YUCCA); and Dee George and Penny Aucoin, impacted residents of Otis, NM.

Still have not seen the full film? Watch now on YouTube and check out the trailer for Part Two here.
---
News from Across the Green Amendment Movement
Pursuing A Long Overdue Hearing in New Jersey — ACTION NEEDED!
It has been four years since the NJ Green Amendment was introduced to the NJ Legislature. Seventy legislative cosponsors later, and we are still being denied a hearing for the people's right to clean water and a healthy environment. We need your help to get a hearing for the right to clean water and a healthy environment this March! Join us for our phone banking events, where we will call NJ legislators and leave messages with other New Jersey residents over zoom! Register here for Friday, March 18th, at 3:30PM and register here for Monday, March 21st, at 7PM.

The NJ Green Amendment (ACR72/SCR15) is championed in the Senate by primary sponsor, Sen. Linda Greenstein, and 18 cosponsors, while primary sponsors, Assemblymen McKeon, Raj, Benson, and 35 cosponsors are at work in the Assembly. Tweet, call, and email your legislators and urge them to fight for a hearing. Your advocacy can go even further by signing any of the NJ Sector Letters, using our NJ Social Action Tool Kit, signing our petition, and signing on your organization as a supporter of the NJ Green Amendment.
The Maine House Vote Approaches – ACTION NEEDED!
The vote to pass the Pine Tree Amendment in the House will take place next week! We need a two thirds majority vote in the House, so join our Maine PTA advocates, young and old, on Tuesday, March 22nd from 9AM-1PM at the State House (third floor under the dome) to talk with your legislator in person. Lots of energy as we display our colorful yard signs, a banner, and homemade signs supporting the Pine Tree Amendment, LD 489 will help our momentum! CLICK HERE TO REGISTER FOR LOBBY DAY
If you can't attend in person, call your legislators from home or send them messages between 10am to 1pm that will be delivered to their seats. Here's what to say: Include your legislators' name, your name, your town, your phone number, and say "I'm calling in strong support of LD 489." Use these numbers: Maine House: 1-800-423-2900; Maine Senate: 1-800-423-6900. Your call could swing the vote in favor of clean water and air in Maine!
The Maryland Green Amendment Enters the House and Senate
GAFTG has worked with a growing group of Maryland partners to craft and support strong Green Amendment language since 2018. February 2022 has seen increased momentum of the Maryland Green Amendment, known as the Environmental Human Rights Amendment in MD, (HB596/SB783) as it enters both the House and Senate. On February 23rd, HB596 was referred to the House in a hearing in front of the Environment and Transportation Committee. Additionally, SB783 was first read to the Senate's Education, Health, and Environmental Affairs Committee on February 7th and presented at a hearing in front of the Judicial Proceedings Committee on March 9th. While neither hearing on the amendment produced a vote, we now have more time to better educate the people of MD on the power of a Green Amendment. The lead sponsor of SB783, Sen. Will Smith, and 15 cosponsors are leading the way for the Maryland Green Amendment to succeed in the Senate, while Rep. W. Fisher and 28 cosponsors persist for the Green Amendment in the House.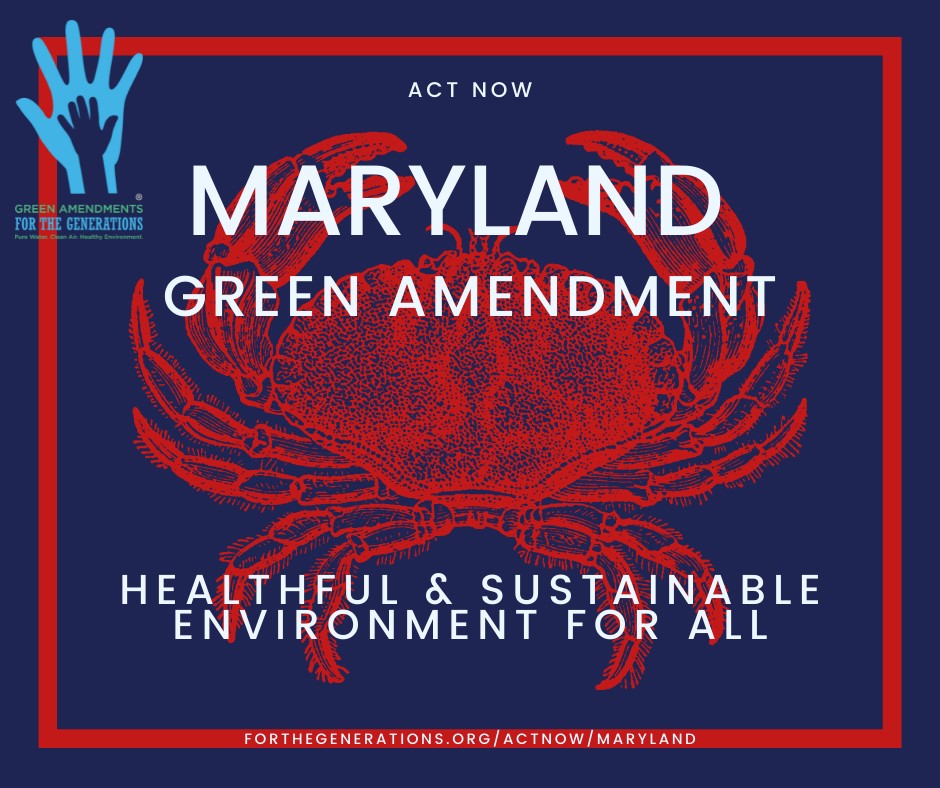 To stay updated on the progress of the Maryland Green Amendment, visit our Maryland Act Now page for opportunities to testify and provide written comment for upcoming hearings.
Hawaii Next Steps
After a Senate hearing before the Judicial Proceedings Committee on March 4th, the Hawaii Green Amendment was deferred and denied a Senate vote. While this is disappointing and signals a long road ahead, our grassroots advocates and legislative champions are already gearing up for a powerful comeback in 2023! If you are interested in joining the efforts to bring the right to clean air and water, and a healthful environment to Hawaiians of all identities 2023, sign up here to be updated on Hawaii's advocacy. Spread the word about the Hawaii Green Amendment by posting and tweeting from the Hawaii Social Action Toolkit.
Green Amendment Advocacy in the First State (Delaware)
Community-focused panels are forming to engage DE communities of all kinds across the state to answer any and all questions about what a Green Amendment can bring to Delaware. If you want to be involved in the advocacy efforts ramping up in Delaware, email us at gaftg@forthegenerations.org.
To create the most momentum, sign on as a partner or supporting organization here. You'll join with our lead partners, such as Sussex Health and Environmental Network (SHEN), for a stronger effort! If your organization supports clean air and water in Delaware, sign on as a supporting organization here!
Crafting the Iowa Green Amendment
Iowa became the 11th active state to propose a Green Amendment. To kick off the advocacy for clean water and air in Iowa, sign up here for action alerts about the Iowa Green Amendment and join us in the upcoming Summer Craft Beer & Environment Campaign event!
​​​​​Combine your love of beer and the environment by participating in Iowa's specialty brew tasting competition using fresh Iowa spring waters and Iowa-grown ingredients this Summer! Rep. Isenhart is challenging environmental/outdoor orgs to help pre-sell canned products of participating Iowa craft breweries at a premium, and portions of sales made at the premium prices will go towards funding environmental advocacy in Iowa through the nonprofit partners!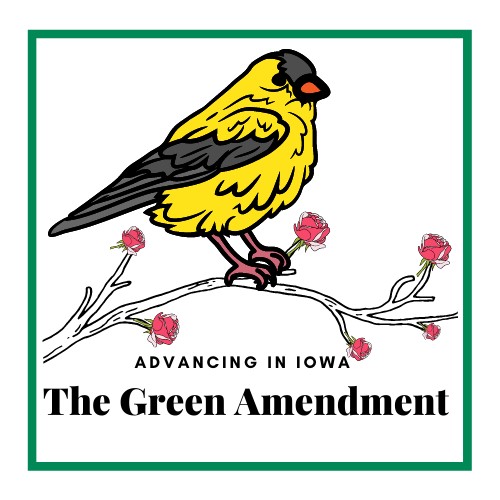 ---
Save the Dates
In Person Event! Earth Day Screening of Here's the Story: The Green Amendment
April 22, 2022 at 7PM
Acme Screening Room: 25 S Union St, Lambertville, NJ 08530
Join us for a screening of the acclaimed film, followed by a panel discussion with the director, Maya van Rossum, youth advocates, and an NJ legislator! Learn more here. Tickets are $20 and a portion of the proceeds will go to Green Amendments for the Generations' advocacy. 
BUY TICKETS HERE
Green Amendment Day 2022 (Wednesday, July 13th)
Last year, all attendees benefited with an enriched perspective and deeper understanding of Green Amendments and their potential for contributing to the end of environmental racism and rise of environmental justice through constitutional empowerment. Stay tuned to receive the 2022 programming for Green Amendment Day this summer!

Upcoming Events
​​​​​Michigan Green Amendment Webinar: How to Get Involved
Monday, March 21st @ 7PM (EST)
We are seeking people to join a steering committee to direct and implement the effort to pass a Green Amendment in Michigan. This meeting is for those who are interested in learning more about or are considering joining the Michigan Steering Committee. The GAFTG team will share insights about how Green Amendment efforts are grown in other states and to answer any of your questions or concerns. Please email Gloria Koch at kgloriamsw@gmail.com to tell us you will attend. We will then send you the Zoom link to the meeting.
You are encouraged to invite others who would consider joining the Steering Committee or may be interested in supporting the Steering Committee in other ways!
Green Amendment Presentation to Environmental Politics Students at Neumann Univ. (Closed Event)
Thursday, March 24th
This presentation will introduce the Green Amendment to the Environmental Politics Student body at Neumann University in Pennsylvania. Engaging with these driven students about the pathways to improving environmental policy will make a great start to your Thursday morning. Stay tuned for the zoom link.
NJ Updates for Rowan University Environmental Regulation, Policy & Law Students (Closed Event)
Tuesday, March 29th
Green Amendment Presentation to UCLA Law Students
Tuesday, March 29th @ 12:15pm PT/3:15pm ET via zoom (Closed Event)
Follow us on Facebook to stay updated on events across the nation! 
---
Green Amendment Headlines ​​
Why We Need An Environmental Human Rights Amendment in MD | Maryland Matters
3 Questions with Youth United for Climate Crisis Action Organizer, Jonathon Juarez | Santa Fe Reporter

Tabling of Green Amendment Angers Supporters / The Paper (New Mexico)
Environmentalists Call on Legislators to Sign 'Green Resolutions' | Coastal Point (Delaware) 
Support Grows for the Pine Tree Amendment | Central Maine
Pine Tree Amendment Would Help Both Businesses and the Environment | Portland Press Herald (Maine)